POSTPONED TO JUNE 2021
Please complete this form and send to:
Deana Weinrich, IAF Center Foundation Fax: (+972) 9-9510281 or info@iafcenter.org
PLEASE SUBMIT A COPY OF THE PHOTO PAGE OF YOUR PASSPORT WITH THIS APPLICATION
PARTICIPANT 1 (exactly as in passport)
Please note that your passport must be valid for at least six months from the last day of the Mission
PARTICIPANT 2 (exactly as in passport)
CHILD PARTICIPANT (Exactly as in passport)
LAND PACKAGE
| | | |
| --- | --- | --- |
| | | $6,798.00 |
| | | $4,599.00 |
| | | $2,599.00 |
| | | |
*Mandatory health insurance June 23-July 1, 2020
Up to age 59
$20.00
Age 60-65
$32.00
Age 66-75
$40.00
Age 76-80
$56.00
Age 81-85
$80.00
Age 86-90
$120.00
For pre and post hotels & trip please contact our office at tel: 310-274-2314 or email: info@iafcenter.org
TOTAL PARTICIPANTS

TOTAL SUM

$

DEPOSIT ENCLOSED (minimum 750$ of the total)
(non-refundable and due at time of registration)

$

BALANCE
(Due in Full by April 1, 2020)

$
Accommodation Upgrades: Upgrades are available upon request for an additional fee. Please note that upgrades must be paid in full at the time of booking in order to secure your upgrade. Room upgrades are non-refundable and are above and beyond the cancellation policy.
Mission payment does not include:
Transportation – transportation fare from/to airport, airfare transportation between point of origin and airport of departure and passport fees are the responsibility of each participant and are not included in the mission costs.
Insurance & Personal Expenses - travel and baggage insurance(s), personal expenses and tips are the responsibilities of each participant.Travelers insurance are highly recommended.
Total Tips per participant $105
PAYMENT – Final Payment Due By April 1, 2020
Enclosed is a check payable to: IAFC Foundation Inc

Israel Air Force Center Foundation Inc.
9454 Wilshire Blvd., PH 20
Beverly Hills, CA 90212

Payment by credit card can be made through PayPal
For information on how to register or if you have registered and require more information, please contact:
Israel Air Force Center Foundation
Office Phone: (310) 274-2314
Email: info@iafcenter.org

Important note in order to avoid 17% VAT on accommodations in Israel:
Part of the check‐in process in Israel will require to show the Border Control clearance ticket you will get at passport control. Please hold on to the ticket since it is needed for check‐in at hotels.
When you arrive in Israel please make sure to keep the ticket you receive at passport control when you enter Israel (Sample below)
Tourists in Israel are exempt from 17% Value Added Tax
When you check into the hotels in Israel they require that you present the entry permit as their systems are connected to the border control database and this is their only indication if you are a tourist or not. If you fail to present the entry ticket you will be charged 17% VAT on your hotel.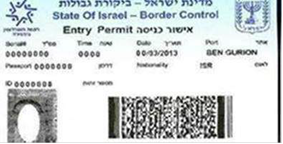 TERMS AND CONDITIONS
Reservation and Deposits:
A $750 non-refundable deposit per person is required at the time of registration. Final balance must be paid by April 1, 2020
Cancellations:
There is a $750 of the estimated total non-refundable deposit due upon registration. Refunds for the remaining balance for cancelations made less than eight weeks prior to trip are at the discretion of the IAFC Foundation.
General Information:
All rooms will be non-smoking. The Israel Air Force Center Foundation Inc. reserves the right to change any hotels listed for any or similar category of accommodation.
Emergency Contact:
I have personally spoken to the emergency contact person (s) listed on this registration form and in the event of accident, injury, illness or death I hereby authorize the listed person(s) to handle any and all arrangements associated with transporting me and/or my remains in accordance to my specific instructions to them prior to my departure for this tour. Further, I have communicated with the same and made the necessary financial arrangements, should it need to arise, to transport me or my remains respectfully. I hereby release IAF Center Foundation Inc. and Ilanit tours and its representatives of any liability associated with any losses, accidents, injuries or death.
Passport Requirement:
A valid passport is required with at least six months remaining until expiration from the date of return.
Photo Release:
I hereby grant permission without reservation to the Israel Air Force Center Foundation Inc. to take or make and/or have taken or made photographs and/or sound/image/video recordings of my family and myself during the mission and/or during the events related to the mission and to use and/or otherwise describe the same for promotion of good will, public education, fundraising and/or promotional activities of the Israel Air Force Center Foundation Inc. I hereby release the Israel Air Force Center Foundation Inc., its officers, directors, agents, employees, independent contractors, licensees, photographers, and assignees from any and all claims that I now have or in the future may have, including but not limited to any of the above described.
Security Notice & Responsibilities:
I affirm that I understand the risks associated with international travel and I hereby will not hold the Israel Air Force Center Foundation Inc. and Ilanit Tours and its representatives responsible and release both parties and its representatives of any liabilities associated with any of my losses, damages, injuries and/or death nor in any way be held liable for any delays or irregularities of me or my property.
I understand that there is a $750 non-refundable deposit, regardless of the time of cancellation or circumstances, if I am unable to attend. I also understand that any and all itineraries are subject to change due to security or other reasons. I do not hold the Israel Air Force Center Foundation, Inc. or Ilanit Tours financially or in any other way responsible for changes to any and all parts of this trip due to any and all unforeseen or uncontrollable circumstances.
Acknowledgement:
By signing below I confirm I have read and I fully understand and agree with the context of the terms and conditions. I will fully comply with the payment schedule, cancellation policy and the terms and conditions of this tour herein.